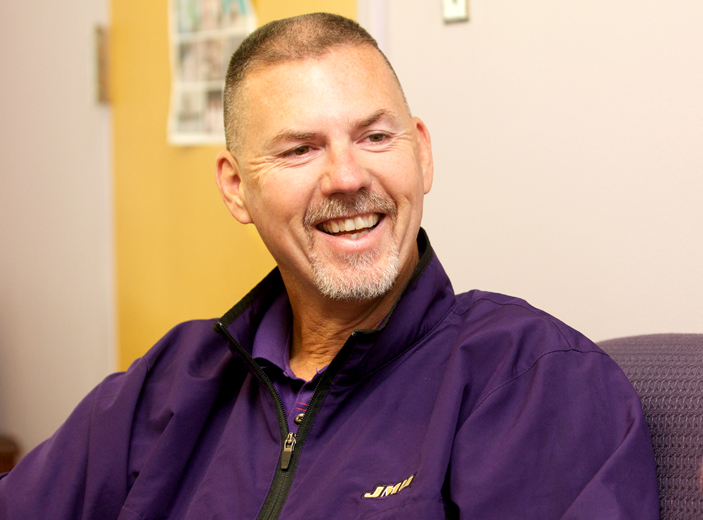 Mickey Dean has built an elite program at a midsized school. (Photo: Ryan Freeland)
James Madison softball is one of the best stories going in the softball world right now.
James Madison is a midsized school of 19,262 students in the mountains of north central Virginia.  James Madison is relatively new to the softball world—it has only had a Division 1 college program since 2002.  And the softball team from 2002-2012 was decently good with a respectable 283–252 record, appearing in the Colonial Athletic Association Championship Tournament twice.  But that is nothing compared to where the program has gone through since 2013.
Since then the program has reached new and elite heights, primarily due to its hiring of Mickey Dean as head coach.
Dean arrived on campus with an amazing list of credentials, including pitching coach for the Venezuelan National Team (2002-2008) and head coach for the National Pro Fastpitch Chicago Bandits (2004-2010), winning five NPF Regular Season Championships and the NPF Championship Series in 2008.  He was named NPF Manager of the Year three times, coaching one of the best-known pitchers in softball history, Jennie Finch, in the process.
Dean has helped turn the James Madison program from a middling backwater outpost to a consistently elite softball program.  During his tenure, Dean has led the program to an 185-48 record, including a 70-7 in-conference record and two Colonial Athletic Association conference championships—two in four years! 
2016 was an especially impressive year as Dean led the JMU Dukes to a 50-6 overall record, a CAA conference championship, an NCAA Regional title, an NCAA Super Regional appearance, and an overall 11th rank in the USA Today/NFCA Coaches poll.  The team also had two All-American Team selections in pitchers Jailyn Ford and Megan Good.  Mickey Dean was rewarded in 2016 with a contract extension through 2021.
So far in 2017, James Madison is ranked 14th in the nation and has a 37-6 record.  James Madison has wins over much larger programs including Mizzou, Oklahoma State, South Florida, Wisconsin, Kansas, UCF, Maryland, and a split series against #7 ranked Auburn. There is a good reason why James Madison is ranked #11!
It's nice to have some new blood amongst the elite softball programs.  And James Madison is such a cool "rags to riches " story.  James Madison's football team also won a national title in 2016.  From bringing in elite coaches like Mickey Dean to its  success in other sports, James Madison has made a massive investment in its sports programs, and it is fun to see it pay dividends!
James Madison is a great small-school underdog team to root for when the NCAA playoffs roll around at the end of May.  Go Dukes!